LVNRV helps adults achieve literacy-related goals to be a SUCCESSFUL parent, worker, and community member.
Our adult learners work on goals such as studying the driver's manual, registering to vote, preparing for the GED or US Citizenship exams, completing job applications and other forms, reading medicine bottles, reading and speaking English for work, reading the newspaper and books, writing checks and paying bills, and more.
Learning to read with children
The single greatest indicator of a child's success in school is the literacy level of the parent. Our family literacy programs aim to give parents the skills they need to help their children be successful in school.
Our newest initiative, Skill Up NRV, promotes family self-sufficiency by providing digital and employability skill development in the context of literacy and language instruction to help adult learners get and keep a good job.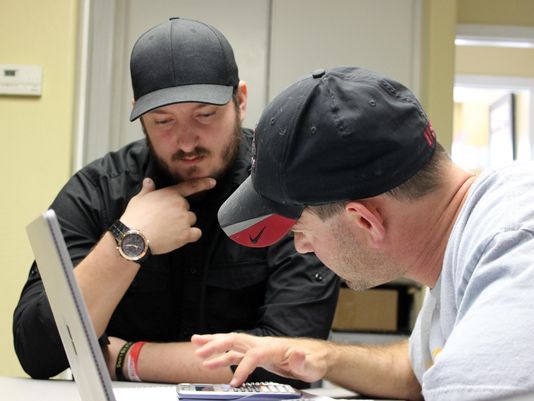 Literacy changes everything
When individuals learn how to read, write, do basic math, and use computers, they have the power to lift themselves out of poverty, lower health care costs, find and keep sustainable employment, and ultimately change their lives.
Our Mission
The mission of Literacy Volunteers of the New River Valley (LVNRV) is to foster, support, advocate for, and instruct adults in the New River Valley who seek opportunities to achieve greater independence through literacy.
We are a community-based literacy program that provides free one-to-one or small group tutoring in reading, writing, basic math, ESOL (English for Speakers of Other Languages), digital literacy and preparation for exams such as the GED and U.S. Citizenship tests. Tutoring is held at a location and time that is convenient to both the learner and the tutor. We are a United Way Partner Agency and an affiliate member of ProLiteracy.
Illiteracy has become such a serious problem in our country that 44 million adults are now unable to read a simple story to their children
- Literacy Project Foundation